1. CONTRAST
The most important thing is, that there's
a lot of contrast
in the image you take. A good example would be this Travelbug. It has a bright background with a readable, dark font on it.

To improve the contrast you can try to
turn on the flash
and
tilt the TB or Coin
!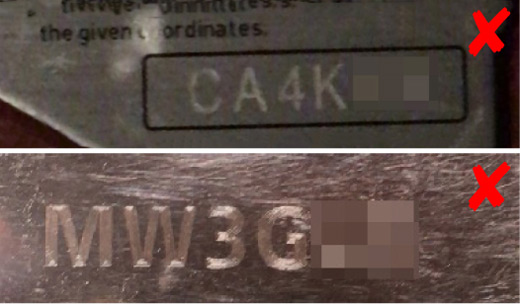 These images don't have a lot of contrast between the text and the background. It is nearly impossible to recognize those codes.
2. SCAN AREA
To recognize a Trackable you have to place it
inside
the scan area. The Tracking number
should NOT touch
the green bars on the top and bottom like in this image.

3. FONT
TBScan can recognize most of the fonts on Trackables but there are some limits:
This font for example is to thick for proper recognition.

It's also really important that the letters
don't touch
each other and that they
don't overlap
.

The M and X are touching each other!

The C is touching the scan area and the K and O are horizontally overlapping!

The T and A are horizontally overlapping!

Curved fonts cause overlaps.